Leadership practices that work
Real stories. Research based.
Business focused.
Leadership practices that work
Real stories. Research based. Business focused.
Mark Milotich
You can influence a person's future behavior by asking for a commitment and then waiting for them to give it. Making a commitment, however small, puts "skin in the game." A commitment now will influence behavior later. People want to act in ways that are consistent with what they have already said or done.
Mark Milotich
We may not think about our habits often. Unlike goals, habits are not a one-time affair. We never "achieve" a habit. We can only strengthen it. By cultivating the right habits and routines, we will accomplish more in the long run.
Mark Milotich
Before I decide what to buy, I read the reviews. The more time I spend online, the more confused and frustrated I become. There is there a better way. I will share with you my approach for navigating the review jungle to make better decisions. You can use the same approach to make any kind of decision at work or at home.
Brain-Based Practices for Leaders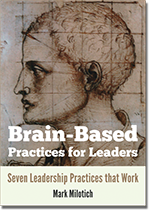 Seven leadership practices that work. We explain the research behind why each practice works and offer suggestions on how you can use it to improve personal and professional success.
…chock full of the latest brain science to explain not just what you should do to be a great leader & manager but importantly—WHY.
—Amazon Customer
Well thought out and researched, brilliantly structured and with great and positive advice.
—Brianna Summers
Great read, direct and to the point. No fluff. Great for reference.
—Yaboy19
Let's start the conversation
Use the form below, send us an email or give us a call. We will never share your information.
Stay in touch!
Claxus Management Consulting
Alpspitzstr. 1
D-82396 Pähl