Leadership practices that work
Real stories. Research based.
Business focused.
Leadership practices that work
Real stories. Research based. Business focused.
Mark Milotich
In Part 1 of Keeping Stakeholder Relationship on Course you identified your stakeholders, analyzed their impact and set an influence strategy. Here I will discuss how to implement your influence strategy.
Mark Milotich
Managing stakeholder expectations can feel like steering a boat through rough seas. The "seascape" around the project is constantly changing. In this article I introduce an approach for managing stakeholders to maximize support and minimize interference.
Mark Milotich
You can influence a person's future behavior by asking for a commitment and then waiting for them to give it. Making a commitment, however small, puts "skin in the game." A commitment now will influence behavior later. People want to act in ways that are consistent with what they have already said or done.
Brain-Based Practices for Leaders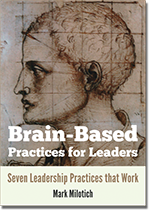 Seven leadership practices that work. We explain the research behind why each practice works and offer suggestions on how you can use it to improve personal and professional success.
…chock full of the latest brain science to explain not just what you should do to be a great leader & manager but importantly—WHY.
—Amazon Customer
Well thought out and researched, brilliantly structured and with great and positive advice.
—Brianna Summers
Great read, direct and to the point. No fluff. Great for reference.
—Yaboy19
Let's start the conversation
Use the form below, send us an email or give us a call. We will never share your information.
Stay in touch!
Claxus Management Consulting
Alpspitzstr. 1
D-82396 Pähl